It was 3 a.m., and I was sitting in complete darkness, sobbing into a lukewarm cup of coffee. How did we get here? Her little face flashed before my eyes, and I couldn't breathe. It wasn't supposed to be this hard. It wasn't supposed to hurt this much. I yearned to hold her, to smell her. Just to breathe her in. Yet, she was hundreds of miles away, and all we could do was wait. All we could do was hope that she was safe, warm, and loved.
When my daughter was born, we did not know she would be our daughter. I received the call at 2 in the morning, and I was up finishing up some emails for work. Adoption fell into our lap. We weren't there yet. We weren't ready. But God had other plans. As we did not know we would be asked to adopt, we were not ready the day of her birth. We had no paperwork done and hadn't even found an agency. Due to these circumstances beyond our control, we were only able to hold our precious girl for two minutes. Long enough to kiss her on the forehead and promise we would come back for her.
Over the next 3 months, we had to fight to get her out of foster care. It felt like we had no one in our corner. For some reason, the system was working against us, and we were made to feel smaller than we had ever experienced. Three long months of not knowing where she was and whether she was okay. All we had was that 2-minute memory and a promise I made to her to hold onto. Memories, promises to her, and promises I had made to God to see this through.
We always knew we would adopt. We had always planned to. Yet, it was never the right time. We never had enough money. Life wouldn't slow down. My husband and I both remember feeling the call to adopt in our teen years. Throughout our marriage, it was this pressing weight or the elephant in the room we called "one day." However, God doesn't wait for "one day." God knew it was time, and He pushed us right into the fire. We went through so many moments of not believing we would make it through. Why would God make this journey so hard if it was His will? Nevertheless, I knew that His plan would be revealed in the end and only faith would get us through. We can now see clearly the reason in our daughter's eyes daily why it was vital that we clung to faith, but in the midst of the process, these three reasons kept us going.
You know the saying, "God will not give you more than you can handle?" Many think it is a Bible verse; however, it isn't. That verse (1 Corinthians 10:13) talks about not being tempted more than you can bear, but it would be nice to think that God protects us from trials. But, God did not promise to keep us from the hard stuff. He promised He would come alongside us and carry us through. Our adoption journey was arduous and often seemed hopeless. I felt in a very dark and hopeless place in those first few months. Still, I knew that God had promised through the desire He put in my heart to adopt that we would see the other side of this.
The faith that I kept during this process had everything to do with my own calling. Many people think of a calling as a vocation or some sort of ministerial call. However, people can be called on all sorts of journeys. Some may have the calling to teach or sing. Some may feel a call to spread the gospel while working construction. My husband and I both knew separately, before we were ever together, that we were called to adopt. That was reaffirmed when we revealed this to one another while discussing having children in the future. When that call came at 2 a.m., I didn't even have to ask my husband what the answer was. It was completely clear that God was saying, "It's go time." We knew we would get through this because we knew it was what God had spoken to us both.
It only took those 2 minutes. When I walked into the nursery and the nurse handed me our daughter, I was in love. This situation certainly was not orthodox and very different from the births of our biological children. It was incredibly painful to hold her and have to say "Goodbye for now." I sat in that rocking chair with her, sobbing hysterically. Yet in those 2 minutes, I knew I would do anything to bring her home to us. I would fight until the very end—and did we ever have a fight on our hands! As my daughter lies next to me as I type this, cradling her favorite unicorn and smiling in her sleep, I am overwhelmed by how worth it the fight was.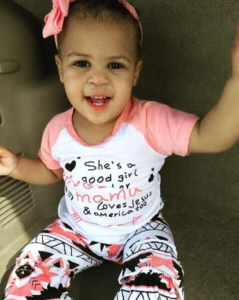 Faith is not always easy. Faith is not always based on an assurance that everything will be okay. Those nights that I sat up unable to sleep, I was certain everything was falling apart. I was sure it would most definitely never be okay. Yet, I knew I would one day be mom to children whom I did not bear and to children who needed a home. I knew it with all of me. Even though faith may have its fleeting moments, it can get us back to where we need to be to fight for what matters and what we know to be true of God's promises and faithfulness to us.
Are you and your partner ready to start the adoption process? Visit Adoption.org or call 1-800-ADOPT-98 to begin your adoption journey. We have 130+ years of adoption experience and would love to help you.